"

...a lovely, relaxed, and informative teaching style that earns top honors from his students."
Craig McClelland - Ukulele!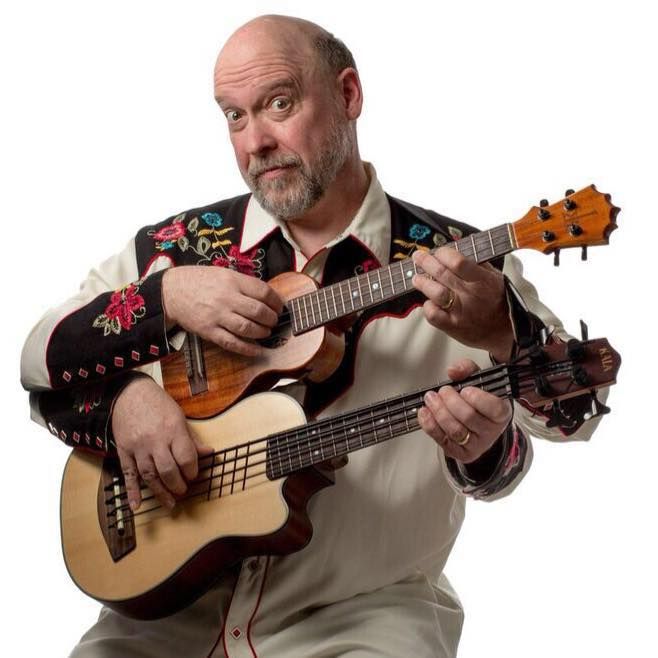 Ukulele Performance, Instruction, & Workshops
Short Bio
A seasoned performer, Craig McClelland will treat you to a tasty marriage of ukulele and a slightly off-kilter pop/rock sensibility. As an instructor with years of teaching experience, he provides an up-beat and engaging style that is highly adaptable to any group or private setting.
Press Photos
Long Bio
Craig McClelland has spent the last few decades playing music in highly diverse venues.  From improv duos to symphony orchestras, performing in dive bars and concert halls, Craig makes music that both entertains and challenges his audiences.  
A professional musician (bass, guitar, ukulele, and tuba) and instructor with over 30 years' experience, Craig studied bass at Musician's Institute in Los Angeles and has a BA in Music from the University of New Mexico and a MA in Humanities from California State University-Dominguez Hills. Craig has been honored and fortunate to perform and teach at distinctive events such as The  West Coast Ukulele Retreat (2017), The Santa Fe New Uke-Culinary Fiesta (2015, 2018),  The Albuquerque Ukekopelli Festival (2016,2018), and The Rocky Mountain Uke Fest (2018) among others. He has also been involved on the local level, having co-founded the Door County Ukulele Society and is past president of the Santa Fe Ukulele and Social Club. 
Craig frequently delves into the world of theatre providing acting and instrumental skills to many theatre companies including Peninsula Players Theatre and Northern Sky Theater (formerly American Folklore Theatre). In addition to teaching and theatre work, Craig can be seen around the country with musical ensembles The Vespus Marimba Band, Sukey Jump Band, Crossing 32nd Street, Links Ensemble, Gazebo Guys, and America's only heavy-metal vaudeville troupe, Skumbaag. In 2012, Skumbaag was chosen as Ensemble in Residence for the University of New Mexico International Composers Symposium, featuring a wide range of Craig's  music, including selections from his  original musical, The Lubbock Lights.  
At present, Craig is recording his first ukulele CD. His first single, Mechanical Hypnotist, is now available and will be the first of several being released over the next few months.  When not recording, he continues to visit music stores and ukulele clubs to generate interest in his music . For more info please sign up for Craig's mailing list! Thanks!
Sample Tracks. Mechanical Hypnotist (single version) plus a couple of incomplete rough mixes from upcoming album.